WE ARE PASSIONATE ABOUT BRINGING HISTORIC HOMES AND BUSINESSES BACK TO LIFE.
JAT offers more than 30 years of experience in historic renovation, commercial construction and new home construction and renovation. We love what we do, and it shows. Our team brings superb craftsmanship, superior customer service, and an exquisite eye for detail to every project. JAT is a licensed and insured boutique firm with the knowledge and experience necessary to successfully tackle all sized projects. Our smaller size allows us to give our clients the attention to detail they desire. Our niche is renovating historic buildings in the Greater New Orleans area. Our expertise has made us the go-to contractor to bring New Orleans historic homes and businesses back to life. JAT's reputation for excellence and quality craftsmanship fosters great relationships with other local tradesmen who all share a common vision: superior customer service with a focus on historic preservation.
BRENT THERIOT,
HISTORIC RENOVATIONIST AND TOP GENERAL CONTRACTOR
Brent Theriot is a licensed, Residential & Commercial General Contractor with more than 30 years of experience in Southern Louisiana. He proudly served in the Louisiana Army National Guard and began his carpentry career in historic Algiers Point working on residential renovations. Early in his career, Brent developed and cultivated a passion for working on historic rehabilitation projects. His expertise ranges from barge board construction and balloon-framed construction to masonry structures and modern platform-framed construction.
Brent's love for construction began at a young age. Growing up, he and his four brothers used to build elaborate tree houses in their backyard and the woods near their house. When Brent was in 8th grade, his family lost their home to a fire. His father, a boat designer, decided they would rebuild their home together as a family. It was at that time that Brent learned the values of hard work, communication, and quality craftsmanship.
Brent has always been drawn to historic homes. He appreciates their quality and beauty. While these homes often present unique situations because of the custom millwork and historic techniques, Brent is inspired by the challenge of recreating, while improving upon the past. Brent prides himself on superior customer service with an emphasis on communication. He understands that when building or renovating a home, his clients want to be informed every step of the way. He visits his job sites daily and strives to keep homeowners informed on the process and next steps. Because of Brent's carpentry background, he is confident in his ability to deliver a level of detail to his clients that other builders can't match.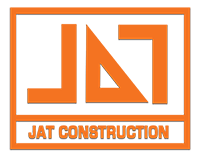 The company's logo, personally designed by Brent, represents his carpentry expertise. The "J" and the "T" are framing squares, while the "A" is a rafter/speed square used to calculate construction angles. Both are critical measuring tools used by craftsmen. JAT Construction is truly the "RIGHT ANGLE" for your next construction project!