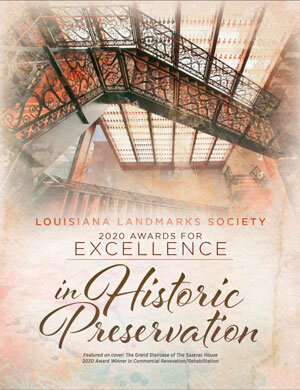 RESIDENTIAL PROJECT WINNERS
Louisiana Landmarks Society 2020 Awards for Excellence in Historic Preservation honor outstanding achievements in historic restoration, renovation and new design. It is a juried competition and the awards selection committee reviewed a near record-setting number of entries. Among the 17 winners this year are four residential projects, eight commercial projects and five institutional buildings.
JAT Construction was awarded one of these prestigious awards for their construction expertise on the Davis/Stewart Residence.
Traditionally, these prestigious awards are presented during a ceremony that features one of the winning commercial projects as the venue. In the wake of the COVID-19 pandemic, plans for this year's event were shelved in early March. The organization opted instead to produce a virtual tour of the winning projects in a three-episode mini-documentary series that is available online. As an added feature, the group is promoting a self-guided driving tour with a comprehensive map and digital catalogue that provides detailed background information on each winning project. "We encourage those interested in the preservation of New Orleans' architectural heritage to drive the city and see first hand the positive impact these award-winning buildings are making in neighborhoods across the city," says president Sally Reeves. "We'd like to congratulate the winners and say thanks to the many sponsors who worked with us in support of this digital initiative."
"This year's group of award-winning projects encompasses a wide variety of nominations from all parts of the city," says awards committee chair Sandra Stokes. "I'm impressed with the talent and innovation they represent along with the significant investment these teams have made in the preservation of the architectural landscape of our city. They have set a great example for others to move forward with confidence in the value of similar opportunities."
FOR FULL ARTICLE PLEASE VIST: https://www.louisianalandmarks.org